About Bassline Publishing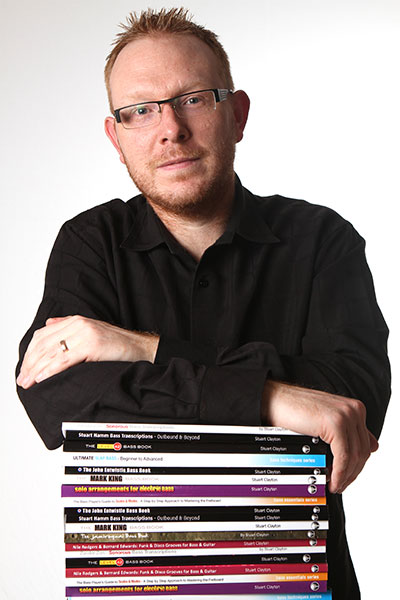 Bassline Publishing was set up in 2005 by Stuart Clayton, with the aim of publishing transcription books for bass players that had been neglected by the larger publishing houses. The first books we released were a five-volume series covering legendary UK bassist Mark King's work with jazz-funk group Level 42. These critically-acclaimed titles proved enormously popular with bassists all over the world and sold extremely well for several years. Today, many of the transcriptions from these original books can be found in four new titles: The Level 42 Bass Book (Volume 1 and Volume 2), Level 42 – A Physical Presence Bass Transcriptions, and The Mark King Bass Book.
The Level 42 series was followed by Stuart Hamm Bass Transcriptions: Outbound & Beyond. This book covered virtuoso bassist Stuart Hamm's Outbound album, as well as his solo arrangements of well-known classical works, and pieces he had recorded with fusion trio GHS. All of the transcriptions were personally checked for accuracy by Hamm, who also contributed performance notes to the book. In 2016, we followed this title with Stu Hamm – The Book of Lies Bass Transcriptions, a transcription book for the album of the same name.
Our next releases included The Jamiroquai Bass Book and  Nile Rodgers & Bernard Edwards: Funk and Disco Grooves for Bass and Guitar, both of which remain our two most popular titles. Over the past few years, these books have been joined by Marcus Miller – Highlights from Renaissance and The Incognito Bass Book, which included interviews and contributions from several of the bass players who have worked with the group.
Over the years we've also released a series of popular tuition books. The first of these was Ultimate Slap Bass, a complete beginner-to-advanced tutorial book which was released to critical acclaim in 2005. This huge volume has been consistently popular for us, and has gone on to become one of the world's most highly-regarded books for studying the slap technique. The Bass Player's Guide to Scales & Modes followed in 2011, then a three-book series The Bass Guitarist's Guide to Reading Music in 2013. Since then we've added Ultimate Tapping for Bass Guitar and Plectrum Technique for the Bass Guitar to our list of publications.
In recent years we have also embraced digital publishing. All of our tuition titles have been developed as interactive books for the Apple iPad, and as conventional eBooks that can be purchased through all of the major online retailers such as Amazon, Barnes and Noble and Sony.
In recognition of evolving learning preferences, the latest development has been the addition of a series of subscription-based video courses. These are based on our popular book titles and are focused around author Stuart Clayton's extensive experience as a lecturer at one of the UK's top music colleges.
Our website includes an exclusive area for customers which is accessed through the Free Stuff link on the main menu. By logging in, customers will have access to extra content for all of the books, including transcriptions, videos, interviews and lessons.